LUGC Officials & Representatives
Patron:
The Rt. Hon. THE EARL OF DERBY DL
President: Harry Tunnicliffe
Captain: Michael Lay
County Secretary: Mark Bardsley
Assistant Secretary: Simon Hunt
Hon. Treasurer: John Pendleton
Junior Golf Chairman: Mike Carney
Mr Harry Tunnicliffe - President 2021
Harry Tunnicliffe was re-elected to serve a second term in office at the Annual General Meeting of Lancashire Union of Golf Clubs Ltd held online on Tuesday, 2nd March, 2021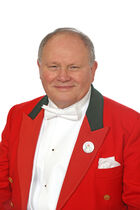 Presidents Message
These are strange times that we are living in and because of that, I have been elected to carry on as President for a further 12 months. This is a great honour, and I will do my best to uphold the high standards and traditions of the Lancashire Union of Golf Clubs. We all faced challenges during 2020 and into 2021 which affected the golfing calendar considerably, but more importantly affected the daily lives of ourselves and our families. Although we were able to stage some of our Championships in a limited way last summer, we are all looking forward to a return to something nearer normality later this year. There is some evidence that perversely, last year's lockdown has resulted in increased Club membership, which is very positive, and hopefully this trend will continue as we exit the pandemic and return to normal.
I look forward to visiting as many Clubs as possible during the next 12 months and hope that you all stay safe and enjoy a good golfing year.
Harry Tunnicliffe - President LUGC – 2021/22