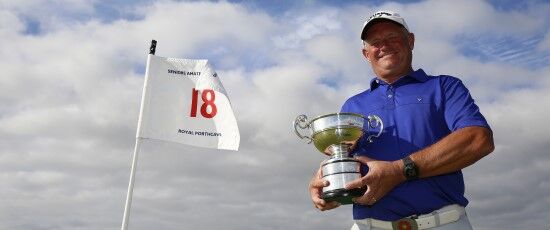 Ac

crington's Trevor Foster lifted the Seniors Amateur Championship at Royal Porthcawl
when a closing one-over-par 73 sealed a nine shot win over runner-up Randy Haag.
LANCASHIRE COUNTY SENIORS

GOLF TEAM

ESTABLISHED 1982

CAPTAIN

Tony Holt

3 x Lancashire Seniors Champion 2014, 2015 & 2016




Contact

Please feel free to contact us with any enquiries by using one of the following methods:

Telephone: 01772 731330

E-mail: secretary@lancashiregolf.org

Postal Address:

Mark Bardsley

County Secretary

County Office

Hurlston Hall Golf Club

Hurlston Lane

Scarisbrick

Ormskirk

L40 8HB
We are fully integrated with the County so our fixtures can be seen in the full County fixture list.
We are open to golfers over the age of 55 who are members of clubs affiliated to the Lancashire Union of Golf Clubs.
We have a full fixture list running from the beginning of May to the end of September. These are made up of:
Five Northern County Seniors League Matches against Cheshire, Cumbria, Durham, Northumberland and Yorkshire.
We also play two Inter County matches against Staffordshire and Shropshire/Herefordshire.
All county matches consist of 9 hole Greensomes in the morning, followed by 18 holes Four Ball Betterball in the afternoon. All matches are played off scratch and there are 12 players in each team.
We currently have circa 30 registered players.
If any player with a handicap index of 3 or less is interested in joining or requires more information would they please contact Tony Holt (details above).
October 2018
Lancashire win English senior crown 2018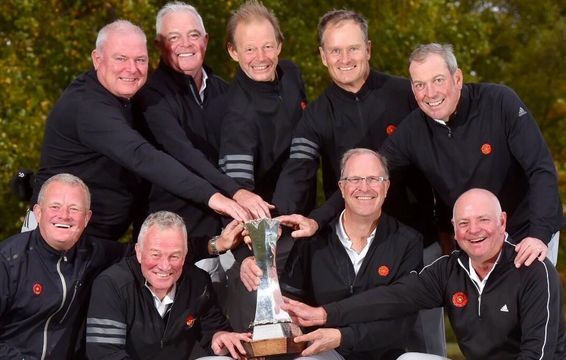 For those who watched events
unfurl on line, it hardly painted a true picture of the reality. Backs
to the wall from start to finish would sum it up. On Day 1 we
eventually overcame a very dogged home county to gain an important very
narrow first win. Day 2 was meant to be our easy game, well we don't do
easy. A disastrous morning foursomes meant we needed at least 3.5 points
from the singles. At times it didn't seem possible and everything we have
wanted was going to disappear. Yet we dug in and thanks to a very gutsy
up and down from Tony H on the last we gave our selves a chance. Day 3
saw us produce some good morning foursomes golf at last and 1.5 to 1.5
was the least we deserved. So it all came down to the six singles. I
don't think I have ever witnessed so many 20, 30 foot and longer putts
and miraculous up and downs thrown at us, on greens running all week at
well over 12 and in a strong wind. After 9 it appeared we were toast but
giving in isn't in our script, after 12 there was a chance and after 15
it became a possibility, Neil and Tony F gave us that chance with
excellent wins. Ian's tremendous up and down birdie on 18 meant one win
only was needed. So it came to Bryan, a great iron to 18 gave him the
30ft putt we needed, provided their man took three putts from 30 yards.
My words to England's Past President were, 'please can we drain just one
long f....g putt'. Well history will tell you that we got what we
deserved. CHAMPIONS. I have to admit that I probably became the first
Yorkshire man in history to shed a tear or two for a Lancashire victory!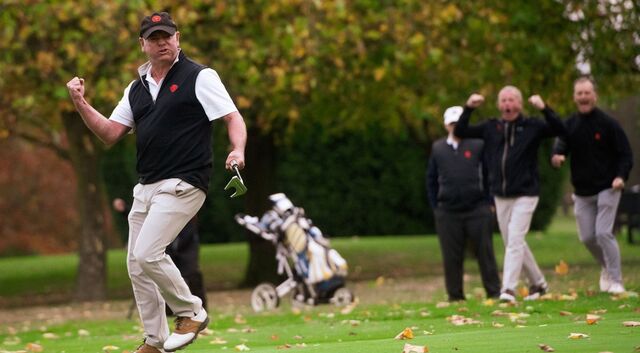 Bryan Hughes holes the winning putt

This victory and every other win this year proves just what a class
group of golfers you are, 2018 will definitely go down in history. I
would like to thank every single one of you for the efforts you have
given for The Red Rose. You don't know how proud I am of you all. As you
know my time is now up and the baton is passed over to Tony Holt, make
sure you all back him in the same way as you have done for me. The past
eleven years have been wonderful, the odd low but so many highs. Can I
on your behalf also thank our President Mike for all his support this
year and finally to our Secretary Phil for all the backing from The
County that has helped us along the way.

Bye for now

Mike
October 2016
Lancashire win English senior crown 2016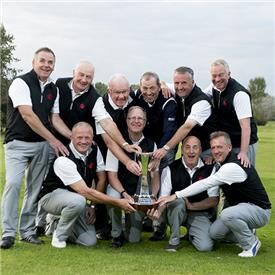 Lancashire are the new English Senior Men's County Champions – regaining their crown in a thrilling finale at Chipping Sodbury Golf Club in Gloucestershire.
They beat defending champions BB&O (Bucks, Berks & Oxon) 6-3 in today's title decider, but the scoreline sounds much more comfortable than the reality.
Lancashire, who also won in 2014, got ahead early on by winning the morning foursomes 2-1. But BB&O made them fight every inch of the way in the singles, with five of the six games going to the 18th – and the sixth decided on the 17th.
"It was unbelievable," said team manager Mike Gray. "They are just a great set of guys, a wonderful team. This was a fantastic game between two good teams."
Both teams fielded an international player in the top singles with Ian Crowther representing Lancashire and David Niven leading the BB&O challenge. Their battle was typical of the afternoon's play: close and hard fought with Crowther edging one up on the 17th, which he won with a superb up and down from behind the green.
But on the 18th, Niven won the hole with a par which included a penalty drop and a holed 25-footer. Crowther described it as the five of the century and said the halved match was "a fair result overall."
Next was the fiercely contested game of Lancashire's Trevor Foster and BB&O's David Cromie. Foster was dormie two up but lost the 17th to a textbook par, before halving the 18th in par for his point. "It was unbelievable," he said. "It was as good a match as I have ever had. In the first 12 holes David holed everything, I felt I was playing so well and he just kept coming back and back at me. It was a fantastic game of golf."
His win meant Lancashire had 3.5 points and needed just one more to secure at least a halved result today and an overall victory, thanks to a slender advantage from their previous two matches. They had to wait a while when BB&O's Tim Whittaker came back from four down after eight to win on the last.
But Andrew Westwell's fighting finish took Lancashire over the line when he won 16, 17 and holed a testing downhill 3ft putt to halve the 18th for a one-up result.
Westwell, who is playing at County Finals for the first time, left the last green in tears after the emotion of the occasion overcame him. But he paid tribute to his 'brilliant' caddy and team-mate Robert Fox.
Alan Gillespie added another point to the Lancashire tally when he beat BB&O captain Ashley Brewer 2/1 and the scoreline was completed when Tony Holt halved his game with BB&O's George Best Wilson.
Brewer said afterwards; "We gave them a run for their money and it was a close battle, but the right team won. Lancashire are very, very strong and congratulations to them, they deserved to win on the day. But we will be doing our best to try and relieve them of the trophy next year!"
In the play-off for third place Devon overcame Worcestershire 5-4. The South West team also led 2-1 after the foursomes and completed the win with successes from Tim Aggett, Tony Allsopp and Rick Pillow.
Team manager Jon Gynne was in charge for the last time and he was delighted to finish on a high. "The success is in getting here," he said. "Then, you know you are going to come up against top players and you do as well as you can. We have done that and so I can't ask for any more."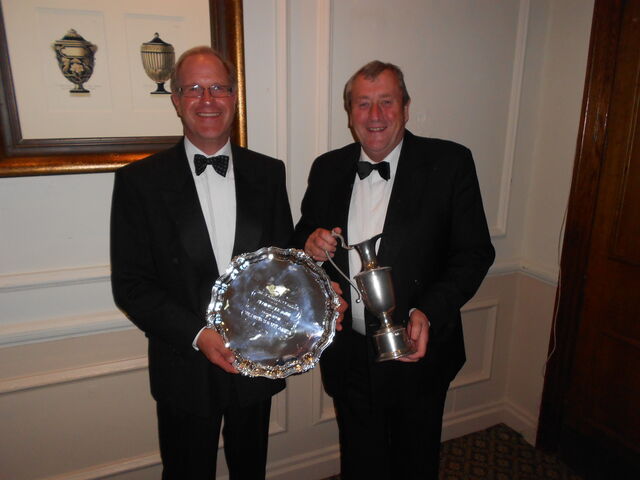 Northern Counties League Champions and Big 6 Winners 2012 - presented at the Annual Dinner to Mike Gray and Stuart Fawcett