U S MASTERS WINNER, JORDAN SPIETH, WAS RUNNER-UP AT HESKETH !

R & A JUNIOR OPEN 2008
As many keen golfers are aware, a considerable amount of golfing history has evolved in Southport; Amateur Championships, Open
Championships, Ryder Cups,Walker Cup, Curtis Cup,Women's British Open, to name but a few.
The Junior Open was founded just over twenty years ago, with the Royal & Ancient Golf Club of St Andrews taking over the
administration in 2000. Staged every two years, the event is closely linked to The Open Championship and is played on a nearby
course. All golfing nations affiliated to the R &A are invited to enter their best under-16 boy and girl golfers. Representing over
60 different nationalities, the majority of the youngsters taking part would have left the country of their birth for the first time.
In 2008, with the Open Championship being played at Royal Birkdale, the Junior Open was played at Hesketh and was won by
Thailand's Moriya Jutanugarn. The 13-year-old girl from Thailand made a little piece of golfing history being the first girl to win
the event. Moriya, a scratch golfer and the Girls' Champion of Thailand, came from Bangkok and had never played golf in
Europe before, let alone playing a testing links course in near gale force conditions. Ironically the practice day had been relatively
calm and warm. On the final day, when the winds were at their strongest, she added a round of 78 to her opening rounds of 72 and
75, to finish on a creditable nine-over-par total of 225. She turned professional in 2013, was named 'Rookie of theYear'and since
then has won over $700,000 on the LPGA Tour.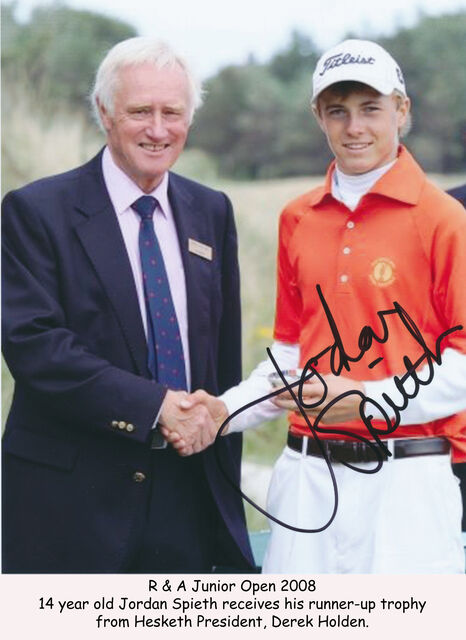 Runner-up in that tournament was a certain Jordan Spieth, just 14 years old and also making his first visit to England. He arrived
in a wave of publicity, due to his achievements in America; he was obviously being groomed for stardom. He is the only golfer,
other than TigerWoods, to have won the U S Junior Amateur Championship multiple times. But watching him playing on
Hesketh's wind-swept links course, he looked as if he would rather be anywhere else in the world but Southport; he seemed to
be a little uncomfortable with the conditions and the overall test that Hesketh presented. Well it obviously didn't do him
any harm, did it?
At the start of the event, Open Champion Padraig Harrington also dropped in, to present Championship medals to all the young
entrants; he endeared himself to everyone present, signing autographs, posing for photographs, being interviewed, showing extreme
patience and considerable Irish charm. He then went on to Royal Birkdale to win his second consecutive Open Championship.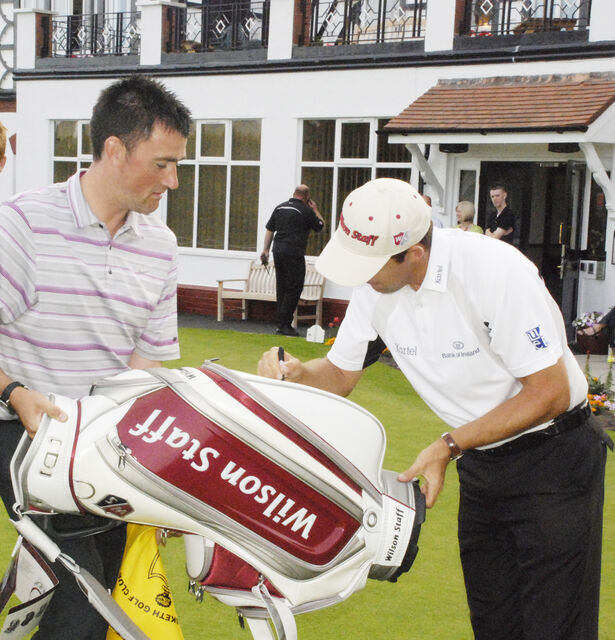 As an aside to the main event, Hesketh President Derek Holden overheard one of the delegates pleading with the R & A to send
putters out to his country. Upon enquiring from Tournament Director AlisonWhite what the problem was, she explained that the
delegate was from anAfrican state where the youngsters managed to acquire old golf clubs but did not have access to any putters.
After a brief discussion,Alison suggested that the President might like to organise an appeal for 'unloved putters'; the result being
that Hesketh members produced over eighty redundant putters; they were taken up to StAndrews where some were shortened and
some re-gripped, and due to this initiative they are now probably enjoying tender loving care being lavished upon them by young
African golfers. FOOD FOR THOUGHT: Just eighty redundant putters from each of the 150+ clubs affiliated to the Lancashire
Union of Golf Clubs would suggest that around 12,000 unloved putters could be lying idle within the county!